Are you struggling to convert website visitors into paying customers? One of the most important factors in boosting your conversion rates is having a clear and strategic placement of your calls to action (CTAs). A CTA is a button, link, or message that prompts your visitors to take a specific action, such as making a purchase or signing up for an offer.
But where should you place these CTAs on your website for maximum impact? In this article, we'll explore the top five spots to strategically place your CTAs to encourage visitors to take action. By the end of this article, you'll have a better understanding of how to optimise your website for conversions and increase your bottom line. So, let's dive in!
But first, here are some of the reasons for embedding Call-To-Action buttons on your webpage.
No#1. To get them to interact with your Company.
You have spent time, resources, and money creating informative and educational content that provides value to your prospects and induces them to engage with you. However, if you don't have an instant way for them to connect with you without having to scroll up and down the webpage to reach out to you, you'll find them exiting your website with frustration.
To avoid this scenario, you placed a Lead Magnet (an Offer) to your call-to-action (CTA) on every webpage. This CTA will encourage them to interact with your business, whether it is to subscribe to your community, engage with your content, or make a purchase. By doing so, you can increase your chances of capturing visitors' details and ensure that they don't leave your website empty-handed.
No#2. To Build Your Database
The second reason for having a CTA is to build your email database. Not every visitor to your website or landing page will be ready to buy right away, and it's unlikely that you'll close every sale on the first interaction. By capturing their contact details, you can keep in touch with them over time and nurture the relationship until they're ready to make a purchase.
However, there's a problem: today's consumers are extremely cautious about giving out their email addresses due to the prevalence of scams and spam. They're also concerned about receiving endless emails that they don't have time to read. To overcome this, you should only engage with them if you have valuable content to offer that they'll find useful.
Ultimately, building an email database enables you to stay in touch with your prospects and build familiarity and trust with them. When the time is right, they'll be more likely to buy from you because they've already developed a relationship with your brand.
No#3. To Apply Triggers So You Can Re-market.
Once you have embedded call-to-action buttons on your web pages, you can set up tags to retarget your message to a customised audience group: those who are considered as your "warm list". For instance, you can embed triggers, tags, or events on purchase buttons, subscribe buttons, book now buttons, checkout, and thank you buttons. Anyone who clicks on those buttons would be grouped into "buckets" and added to separate pipelines to receive customised messages, products, and offers from your company, thus improving the probability to successful sales.
To set up these triggers, tags, or events, you need the services of a Conversion (or Tracking) specialist – we can help you with this task. Click here.
Now, let's find out the best places to put your CTA on your webpage. Here are 5 locations.
The Header

Website owners often overlook the importance of the header section, which is integral to your conversion success. While many websites contain only menu headings, incorporating a CTA button can significantly enhance the engagement rate. After all, your ultimate aim is to convert!
So, what kind of call-to-action phrase or wording can you use? Here are some examples: Call Now, Book Now, Register Now, Claim It Now, Buy It Now, Download To Get, and Subscribe and Get Now, etc.
The website's header is the first thing visitors will likely to notice when they visit your homepage and every other page, so make full use of it and put a CTA on the side!
Above the Fold
When it comes to the web design world, the word "above the fold" is a term that means the upper section of a webpage that a user sees on their screen without having to scroll down.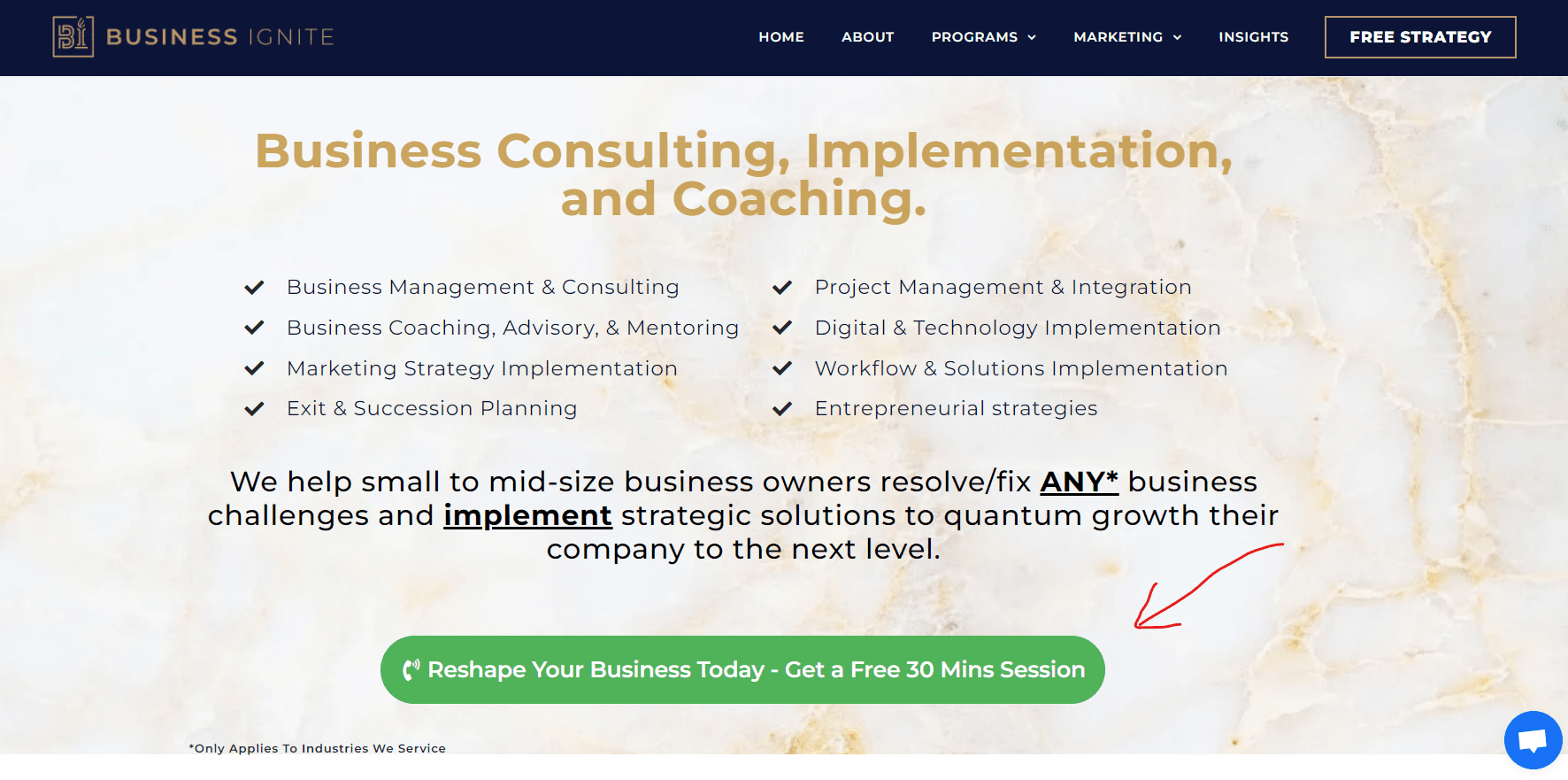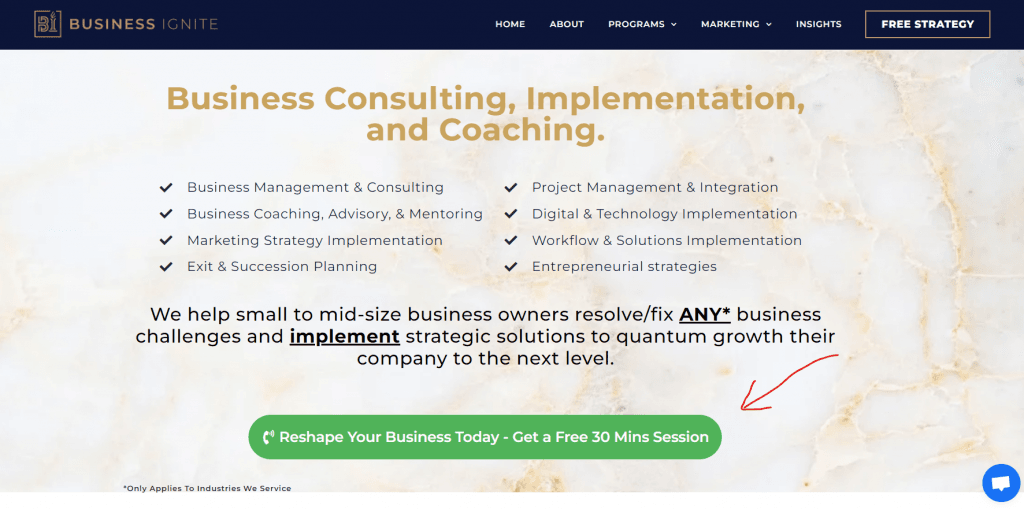 Placing a CTA within the Above-the-Fold section can increase the click-through rate depending on what you are offering. This space is a valuable real estate and you should use it to its full potential.
Below the Fold
Below the fold has become a popular term amongst website designers and developers, referring to the area of a webpage located beneath the initial contents (Above the Fold) that can be seen within your entire monitor space. Here is an example of CTA "below the fold"
The term Below-the-Fold encompasses subsequent sections (fold) of the webpages in between the Above-the-Fold (top section) and the Footer (bottom section).
I would put a CTA on every section of the Below the Fold.
In the Footer
At the bottom of every webpage is a footer: that space in which formation and copyright notices are displayed. Footers are arguably as important as any other page sections, as they can inform customers of pertinent legal, security and privacy-related information. Regardless of the design and format, a generic CTA should be placed in the footer section inviting visitors to connect with you.


A Pop-Up or Slide-In
Pop-ups and slide-ins provide unique opportunities to capture the attention of your visitors, making them ideal for prompting the user to sign up for your newsletter or take a specific action to claim a giveaway (Lead Magnet). If you're looking for an effective way to drive conversions and grow a loyal following, pop-up & slide-in campaigns are definitely worth considering!
Summary
Though it may seem like there are many places to put your CTA, it's essential to ensure you don't overdo it or clutter the page too much. For a CTA to be compelling, it should take centre stage on your website and be clear, concise, and visible enough that visitors can't help but notice it.
Understanding what goes where when it comes to these five placements will yield the best results. Keep your audience in mind when deciding where they tend to look on the page; where would they expect to find a CTA? And most importantly, what action do you want them to take?
If you need help integrating Call To Action buttons on your website or copies, learn more about our website services.