There are 1.14 BILLION websites in the world. 17% of these websites are active, and 83% are inactive. (Source: Siteefy.com). Due to 1.14 billion websites on the Internet, Google AI prioritises credible websites over inactive, untrustworthy, and banned deceptive ones on their Search Engine Results Page (SERP).
Therefore, creating authentic and high-quality content for your website and blog is crucial in building credibility and trustworthiness with Google and other search engine platforms.
The more valuable content you produce, the more Google will give love and appreciation to your website.
However, be warned that Google's AI algorithms are becoming increasingly sophisticated in detecting poorly written or spun content that attempts to manipulate search engine rankings. As a result, if you rely on AI tools and low-quality writers to mass-produce content, your website may be penalised or even banned from appearing on the search engine results page (SERP).
Generating a high traffic volume to your website is essential for Google to determine your website's ranking. Doing it correctly may lead to strong Sitelinks appearing on the search results and achieving higher domain/ page authority rankings.
This blog post will provide three ideas to fast-track your content production while maintaining quality standards.
#1 Using Dictation Software and Keyboard Tools
First, you can utilise dictation tools. You can find such tools in the Chrome extension, SaaS, Desktop/ Laptop, and Microsoft Word.
I use "Voice In" on the web browser and MS Word dictation plugin. There are many similar tools; find one that suits you.
Second. Hire someone who knows about your business and can articulate and explain your services & benefits as if they're speaking to your clientele.
If you cannot find such a person, I'm afraid you'll have to be the author yourself, like what I'm doing.
Regardless of who the author is, the most important ingredient in creating rich valuable content is to inject your insights, experience, and knowledge into your content that reflect your voice, brand, and message that your target market can resonate with.
The beauty of being the Author is that Nobody wants to read recycled Content repeating the generic information the same way, especially with Blogs generated by AI-Content software.
Content is like nourishment for the mind. Imagine going to different restaurants and always being served the same dish with the same flavour. It would get monotonous, wouldn't it?
Likewise, when it comes to content, people want to digest something fresh and explore new perspectives. Your educated prospects would want to read a different style of insight to broaden their spectrum of understanding and stretch their thirst for knowledge.
There is only so much to learn in a given subject. Once you become an expert in your subject matter, add in your own spill, ideas, and solutions to make your Blog, article, and Content unique.
By personally contributing your insights and knowledge on a given topic, it will differentiate your Content (or Blog) from the millions of other pieces of Content already available on the Internet.
The only disadvantage is the time to produce the Content and subscribing to a fast internet connection service to get things done faster.
#2 Engage a professional Content Writer
The AI content tools will no doubt disrupt the content creation industry, but for the time being there is still a lot more to evolve and be moulded in order to catch up with professional human writers.
No matter how popular the AI content tools are out there, we still need professional content writers to fit the puzzle, adjust/modify the content to make it more authentic and infuse it with insight and wisdom to make interesting reading. Such human intellect cannot be replicated for the time being unless AI has caught up with collective wisdom.
Until machine learning A.I Tool becomes more simplified to operate that even Dad & Mum can train them to automate content creation, we will still need the service of a professional writer who can think outside the box to generate captivating content.
And there are platforms out there for you to find these writers: Writer Access and Semrush Marketplace are still popular choices to find expert writers.
How these Platforms works:-
You subscribe to a monthly plan to access their professional writers and pay by words. Costs per word average $0.06 to $0.10 (USD) depending on the quality of the writing. The key difference is that you can find writers who specialise in your niche and knows your industry and subject topic well enough to write with brevity rather than stuff it with fluff and filler words to bill you more money.
As a business owner, you won't have the time to write unless you are a writer or have a passion for writing. And depending on your industry, you may find it easier or harder to find content writers. Some general industries like travel, fashion, lifestyle, jewerly, and hospitality, have many skilled content writers looking for work.
Other niche subjects such as tech, marketing, law, and specialised business will have a smaller supply of competent writers.
However, if you are able to find a competent writer, it will save you time.
Regardless of who your writer is,
here's our 3 tips to ensure a smooth experience:-
Review their work and make any changes necessary before posting it on social media or sending it out into the world!
Be sure that everything is clear and concise in every sentence—otherwise, people won't understand what's being said!
Make sure that everything is done according to the terms of the contract with the writer
Make sure that money changes hands before moving forward with any other steps in this process.


The advantage of finding the right Content writer is that you don't have to spend hours each month writing a new piece of Content. Instead, you can spend time promoting the Content your writers have created for you.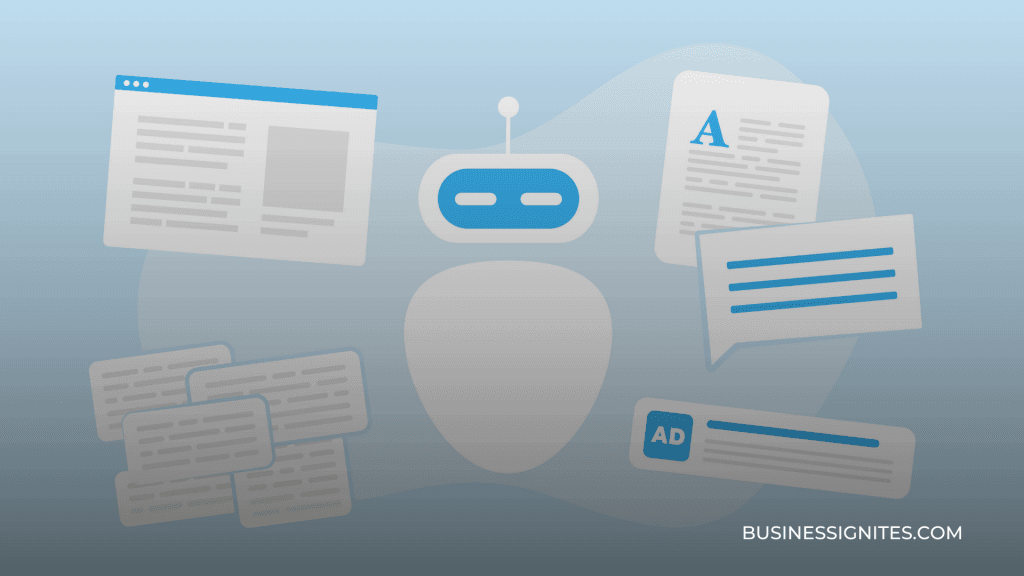 #3 Use quality AI-Content Software
Approximately ten years ago, there were AI-generated tools such as Spin Rewriter, Word AI, Article Builder, etc., where you get other Author's Blogs and spin them into your Content.
How it works was that you copy/paste other people's Blogs into the AI software and smash the SPIN button to generate paragraphs for you to use as your own. This was plagiarism Version 2.0.
Good news was that, most of the time, these AI-Generated produce gibberish content and frankenstein paragraphs that will cost you more time to edit, proofread, and draft to make any sense of it.
Eventually, only blackhat (non-proper) SEO artists use these babble Blogs (Bots-AI generated content) on their fake websites to establish multi-backlinks within their network of websites to build domain authority with Google Search Engine Results Page. This method was associated with Link Pyramid and Link Wheel, or Web 2.0. Link Wheel.
Such tactics failed miserably as Google AI ban websites that contain spammy backlinks. Yet, to date, there are still overseas SEO blackhat freelancers selling content creation services on popular freelancer websites to small to mid-size business owners who have no clue about Content and SEO.
However, time has changed, and so have AI-Content Creation Tools.
There is much credible AI-powered content software, like ChatGPT (free for now), Jasper (dot)com, Copy.Ai, Predis.ai, ChatSonic, WriterSonic, and Copysmith. These types of software are considered better quality than the ones I mentioned earlier, and quality comes with a price.
But will they help fast-track your content creation?
There is only one benefit of using AI writing tools: speed.
The speed to auto-generate 4 to 5 subheadings that gives you a generic chassis for your Blog within seconds is something any writer could wish for 3 years ago.
The content produced by today's AI-powered Tools can be very generic and rudimentary, especially if you don't insert the specific command prompt.
Your educated prospects and customers will not waste time reading elementary Content unless you invest time editing and revising it to pack it with some punch. Otherwise, a typical mental reaction from readers would be: –
"What are you trying to say?, You are not saying anything".
Furthermore, AI content cannot mimic your writing tone, as Content that reflects your persona and tone makes reading enjoyable.
In the end, AI content creation tool has limitation. To make your AI blog worth the time for your Prospects to read, you need to invest the time to enrich it with insights and knowledge and human resources to proofread the Content before publishing it.
Conclusion
Content creation doesn't have to be a time-consuming or painful process. By following the three strategies outlined in this blog, any business owner can easily fast-track content creation. By utilising dictation software tools, bringing on a professional content writer and exploring quality AI content software platforms, not only will your content creation be more streamlined and efficient, your overall business will also benefit hugely.
It is clear why engaging in these practices is so important for businesses of all sizes. To amplify your business growth and take it to the next level, joining our Growth Workshop or Mastermind group might be worth considering.
If you need help with SEO and Content Creation, click here to find out more.