Marketing your business to local suburbs can be a game-changer for your sales conversion rates. After all, customers prefer to buy from local businesses. But if you're looking to attract more customers within your area, investing in local marketing strategies is the way to go. And if you do it right, you can even become a local celebrity, receiving recognition wherever you go.
The good news is that local councils are eager to support their community's businesses to get re-elected in the next election. However, with your competitors marketing to the same locals, competition may be fierce. But don't let that discourage you. If you're targeting relatively untapped suburbs, you have a blue ocean advantage, and standing out in your industry and niche can be easier than you think.
By investing in local marketing, you can outshine your competitors and reap a happy return on investment before they catch up. So don't miss out on this opportunity to become a local favourite and attract more customers than ever before.
While local marketing is simple, it isn't always easy. However, there is an effective way to reach a specific demographic in your area without incurring significant costs, which can help your business grow rapidly. This article will explore three local marketing strategies to attract and retain more customers.
But first, let's tackle the definition.
What Is Local Marketing? 
Local marketing is a strategy where you invest resources to market your goods or services to targeted localities. It can be your current and nearby suburbs, city, region, or district area. The focus is on selling to people who are nearby and locally. The mission is to reach out to local prospects and get them to buy from you rather than from companies further away.
Local marketing or "local commerce" are often synonymous. The term "local" here refers to a geographic area smaller than a country or state.
Benefits Of Local Marketing.
Business owners often aspire to reach out to the national or international platforms when trying to grow their business, which can be tempting. However, it is still crucial that you take one step at a time, focusing on local marketing for your business as your initial marketing strategy. 
It's a rule of thumb, but you don't have to follow it. The ideal scenario is to max out your customer base locally, state-wide, nationally, and internationally.
Here are some of the advantages of targeting your local market: 
Sense of certainty: – customers prefer to buy local as it gives them a sense of security and assurance that they can complain to the local authorities, ombudsman, or consumer affairs if anything goes wrong. The consumer's law will protect them.

It is easier to convert: When compared to purchasing goods and services overseas, there's a perceived inconvenience when things go wrong. Even though you can submit a refund but not without jumping through hoops: time zone differences, email delayed correspondence/ responses, lack of support, off-shore support, and postage costs paid by you.

Localising your marketing strategy helps you reach local audiences faster, boost your search rankings and online traffic, and build trust easily with potential customers. Local marketing is the way to go if you're looking to expand your business to new markets or attract people who haven't heard of you yet. 
Here are three (3) local marketing strategies to dominate your market locally. 
1. Register Your Business on the Google My Business (GMB)
Google My Business (GMB) is the epitome of local marketing.
In the past, local businesses relied heavily on traditional media like the Yellow Pages and newspapers to advertise their services. Expensive and restrictive, these ads were often limited to a few words — a far cry from today's marketing capabilities. But times have changed! Now, businesses have access to more powerful local marketing strategies that take advantage of modern tools and technologies.
[see below] ***Remember paying $30 for a 15 words Ad column to fit into a small section in the classified section? That's savage!**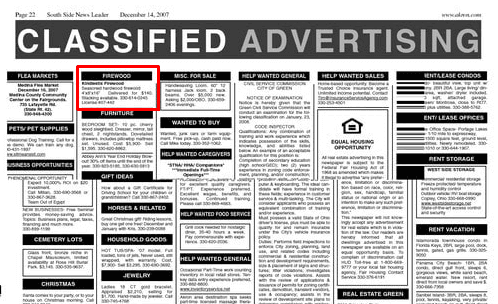 Fast track to the present, they are almost forgotten except by the baby boomers.
Google My Business (GMB) is FREE and easy to use and comes with a dashboard to manage your listing anytime to ensure all the information stays up to date. Google even reward you with extra exposure if you actively use their platform (GMB).
It's easy to set up, and here's how you do it.
Type "Google my business" and click on the first link.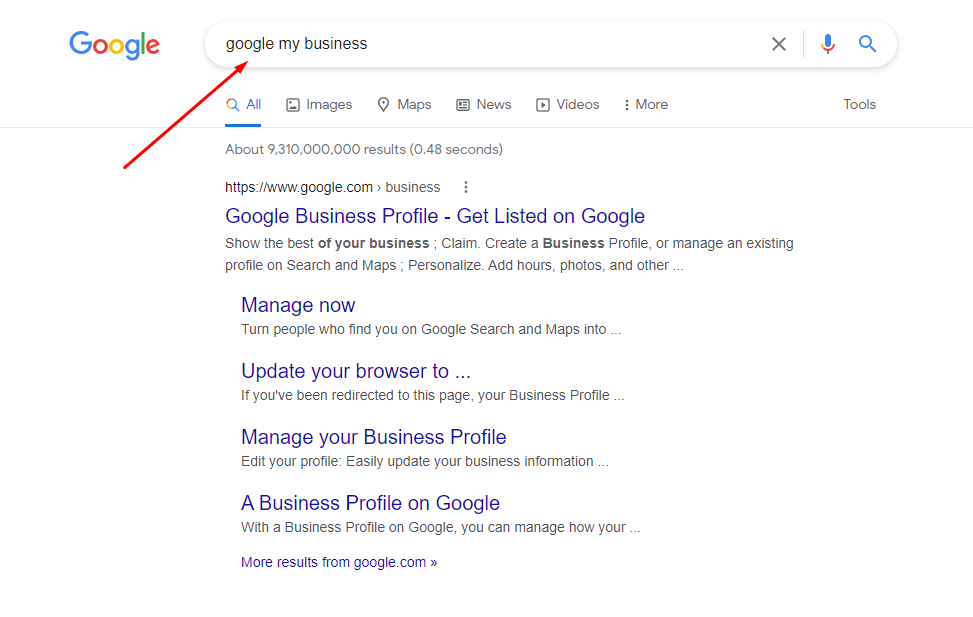 Log in to GMB using your Gmail account.
Once you are in, the rest of it follows the prompt, which is self-explanatory.
The primary benefit of GMB is that it will boost your search rankings and online traffic, provided you optimise it.
Google My Business prioritise local businesses when someone type high-intent keywords on the search engines, for example, "dentist near me", "Macdonald", "pregnancy chiropractor (insert location)", or other (professional/ Service provider) "near me" or "in my city".
Google My Business will display businesses based on their registered IP address (local). Instead of displaying businesses farther away, GMB showcases your business which potentially helps you generate new inquiries, traffic, and sales if you know how to close it.
If you own multiple locations or branch offices, you should also register those businesses based on locality and add the addresses on the GMB platform. Doing so will allow customers searching for your business on desktop or mobile devices to easily find your business(es) through a map view on their search results page.
Once you are done with GMB, the next step is to optimise your website to make Google Bots crawl your website.
2. Optimise Your Website with An SEO Strategy.
Here's how to optimise your website in simple terms.
Embed 15-45 buyers' Keywords across your web pages.
Perform On-Page SEO.
Perform Off-Page SEO.
Perform Local SEO.

These four strategies above are intended to give you a broad overview of what needs to be done to optimise your website. If you don't have the time, you will need to hire a company that does SEO. Our team can do all of the above tasks; click here.
Your website is your real estate when it comes to branding, attracting new customers and improving conversion rates. To maximise its potential, it's important to ensure your site is presentable and engaging. Here are some tips to help you do just that: 
Ensure your colour palette and theme complies with your brand bible.

Ensure your website is SEO-friendly so that Google AI can crawl your website with ease. If it was built with unfriendly elements and programming codes, the Google AI crawler can't get to every page.

Ensure your website is optimised for mobile devices: if users can't view your page on their phones, they might leave before deciding whether they want to stay in touch with you!

The proper font size on all pages is large enough for easy reading without zooming in on each page; this includes mobile view.

Ensure your site is easy to find: Have you installed the latest sitemap.xml on your Google Search Console? And test your robots.txt?

Get quality backlinks to your website to tell Google AI that your site is credible and legitimate and that you mean business. There are many fakes, spammy, AI-generated websites that Google tried to ban on their search engine.

Breadcrumbs: keep the navigation straightforward throughout the site.

And finally, keep content clear and concise at the beginning of every page so visitors won't have trouble figuring out what you do or what your business offers on your website –this will improve readability, and Google AI recognises good copywriting.

Embed 15-45 high-intent keywords on your entire web pages. Ensure it is on every webpage, landing page, and meta tag description.



The most significant benefit of embedding 15-45 high-intent keywords on various web pages is to help Google Crawler Bots identify the nature of your business so that the AI can better present your business to the users. It is all about user experience.
You do not have to add the word "near me" to your webpage content because you have already registered on Google My Business. Google will recognise your address and display your website accordingly.
3. Place SMM and SEM Advertisement
SMM stands for social media marketing and this includes Facebook, Youtube, Twitter, WhatsApp,
SEM stands for search engine marketing, and search engines include Google, Bing, Yahoo, and Baidu.
You will find Facebook Ads easier if you work out how to use Google Ads.
In this section, we'll focus on Google Ads as the No#1 search engine to date.
Why pay for Ads?
You get instant exposure for your business, and depending on the competitiveness of those keywords, your Landing Page will most likely be on page 1 of the search engine.

Your potential local customers will not typically type your business name. Therefore you will need to place ads in front of your customers.

If your business name contains competitive keywords, such as "

Civil Engineering

", and many civil engineers' webpages and sites on the search engine, it isn't easy to rank on page 1. Your business page might be on page four or seven. As a result, you will need to have Ads placed in front of a customer so that it appears on page one or two, depending on the competitiveness of those keywords

To do this, you must determine what type of "Buyers' or "high-intent" keywords your prospects are typing on the search engines.
High-intent keywords are results/outcome-oriented keywords that your prospects use and type on the search engine to help them solve a particular challenge, pain, or problem. And almost, if not always, there are highly competitive. Every business is competing for those keywords to rank on 1st page on the Search Engine Results Page (SERP)
Examples of "Buyers" or "High-Intent" Keywords + location are as follows, depending on your industry (sample only): –
We hope you get the picture.
The locality is what local marketing is all about, and we recommend including your location as an essential keyword on your Ads placement to improve its visibility. But there is no guarantee as Google Ads has its algorithm.
Other than location as keywords, you can use the geographical filtering feature.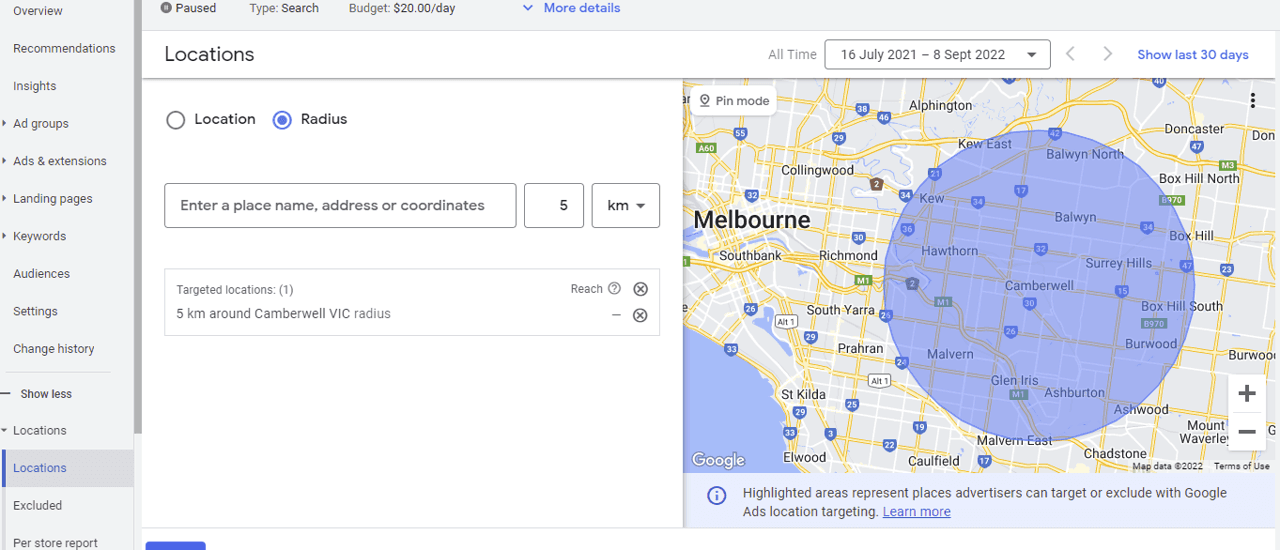 If you want to target a suburb within a radius, insert the name of the city/ suburb and adjust the radius.
Google and Facebook media platforms are advertising platforms. The objective is to give business owners quick and instant exposure to their target market who live within the targeted local zones.
The challenge is that there is a bidding price depending on the demand for those high-intent keywords. If those keywords are highly popular, the advertising platform will charge a premium for those keywords per click.
Alternatively, you can create articles with at least 20-30 location keywords embedded on the keystone pages and build links to them so that Google will display your business on the first page of the Search Engine Results Page (SERP). But placing Ads on Google and Facebook marketing platforms might be best if you find this process tedious and arduous.
Google and Facebook media platforms have made it so easy that anyone can jump in and create Ads. They want you to create ads! That's how they make the most money. Google and Facebook will make it so easy that even a high school kid and a retiree can do it – if they have the patience and ability to apply basic logic.
FINAL THOUGHTS.
As we have explored, local marketing is the key to unlocking growth and strong customer loyalty in your business. Doing so can be overwhelming when starting out, but with a few simple steps, such as registering your business with Google My Business, optimising your website with SEO strategy and placing SMM and SEM advertisements, you will find yourself ahead of the competition. The transformation of your business can only come through commitment and focus. If you want more "know-how" on how to take the leap with local marketing, join us at our upcoming Growth Workshop or Mastermind. With our experienced team offering guidance along the way, you'll soon witness amazing results when unveiling the power of local marketing. To learn more about local marketing strategies, click this article to discover three ideas that build instant rapport with your local community. Local Marketing Ideas that Build Instant Rapport