Business cards and word of mouth are the old ways of cost-effective marketing.
The days of simply handing out your business cards are over as people turn to search engines to locate the type of businesses they seek. But fortunately, word of mouth remains one of the best ways to market your business as it is free, and you get instant credibility from the people who referred you.
And as a business owner, you need to constantly lookout for better ways to market your business to existing and potential customers in the most cost-effective ways.
There are a handful of marketing strategies nowadays that you can use to attract new customers and intrigue current clients. So, here are the top three cost-effective ways to promote your business and the recommended tools to execute the strategies faster.
1. Develop Valuable Content
Content can be websites, blogs (written words), videos (YouTube/ Facebook), images (infographics), and digital assets (eBooks, Pdf, cheatsheet, templates)
Every business should have a website since it allows customers to see the products and services you offer while providing an opportunity for you to get your brand out into the public eye.
To improve your branding, ensure your website include blog posts, videos, and digital assets. These contents are great ways of building trust if they find them helpful, educational, and informative. You want your prospects to see you as the expert on the subject matter.
If you do not have the time to create valuable content: website, blogs, and videos, you can hire these services out to private contractors who will appreciate the work, and they will ensure that your content is created promptly on the schedule that you set for them.
Now here are the tools that you can use to develop content:
For Website:
Use WordPress as the content management platform
Although there are Wix, Squarespace, Webflow, Weebly, and many others, we still prefer WordPress as there is an abundance of themes and plugins that you can use in the marketplace to jazz up your website.
For Images, short videos, and Audio:
Use StoryBlocks. It's just a small subscription fee, and you get access to millions of stocks asset.
For Blog Content:
Use MS Word and their built-in Dictation feature. Or outsource to freelancers and contractors to write for you.
For On-Page Optimisation:
Use YOAST SEO – this is a WordPress plugin that allows you to optimize your Blog, Video, and web page content so that Google and other search engines can identify your content.
And to speed this process, you need to index your webpage (juiced with content) through the GSC.
Google Search Console (GSC):
Once you have optimised your content (webpage, Blog, Infographic), the next step is to index it on Google Search Console to start appearing on the search engines. If not, you may have to wait for a very long time for Google bots to find your content.
Indexing is like getting priority attention from Google, almost like cutting the queue.
If you need help setting this up, click on this link.
2.Distribute Content to Multiple Social Media Channels
The second most cost-effective way to reach potential customers and communicate with existing customers is through your social media accounts. Some people coin this activity as social media marketing.
Most people have at least one social media account, and many have several. And using your social media accounts to help leverage your business exposure is not only cost-effective but also a clever marketing tactic as one post can reach hundreds of people.
And depending on what you are selling, you may consider having social media accounts on the top major platforms, including YouTube, Facebook, Instagram, Twitter, and LinkedIn at least. There are many others, but these five seem to be the most popular with people of all ages.
Now there are two types of strategies for using social media. The free posting and the paid communication. We will cover the paid communication in another blog.
But, there is a catch with the free posting: it is a time-consuming process as you must create a post, schedule the posts to ensure it is posted daily or weekly, create content/ images, and ensure your posts get distributed to multiple channels.
Fortunately, there is a tool to handle this arduous activity – coming right up.
Our suggestion is to use social media: free posting to establish your credibility and trust and to bring traffic to your site so that you can bait them with a lead magnet when they enter your domain.
Remember that the etiquette for using the free posting platform is to provide valuable content and share your social event, not to perform a hard sell on your visitors. These media giants will not like it, and you may be banned for breaching their terms and conditions.
However, should you wish to try your luck, and many have done so successfully, using social media free posting to sell their services may generate some sales. But to penetrate the barrier of success, you need paid ads, valuable content, and a lead generation system.
Now here are some of the tools to manage social media engagements
Buffer, Hootsuite, and Sprout are some of the top management platforms. Depending on your budget, choose one that fits your style.
3. Engage With your Past, Present, and Prospective Customers.
To achieve this task without appearing too confrontational, use Emails. This means you need to compose a series of emails to engage with your email list. This action is called email marketing.
Email marketing is a great way to connect with customers if you don't overdo it. Nobody wants to see emails attempting to spur a purchase in their email every day.
To utilise email marketing effectively, limit your emails to 1-3 times a week unless there is a special sale or special event, and you want to remind people when it occurs.
Otherwise, email marketing should be a way to let your customers know that a new blog post is up, a sale is underway on products or services, or even that you're opening a new location for your business.
Email marketing is cost-effective but time-consuming. And it is a great way to keep your current customers informed if done correctly.
But first, you need to build your list, and here's a tip.
You can build your email database by drawing traffic from your Social Media Post (content). And once the visitor lands on your website, offer them gifts/ tools (lead magnet) that help them solve a specific problem in exchange for their name and email address.
If you need help setting this up, talk to us.
Here are some tools that can ease the tasks of your Email marketing activity.
ActiveCampaign, Ontraport, MailChimp, Hubspot are some of the major email marketing software to automate your lead generation system.
BONUS.
Although I mentioned earlier that I'd give three cost-effective ways to market your business, I thought I'd throw in a new bonus as it is the most oversight free marketing strategy: Google My Business – GMB. As example, see picture below.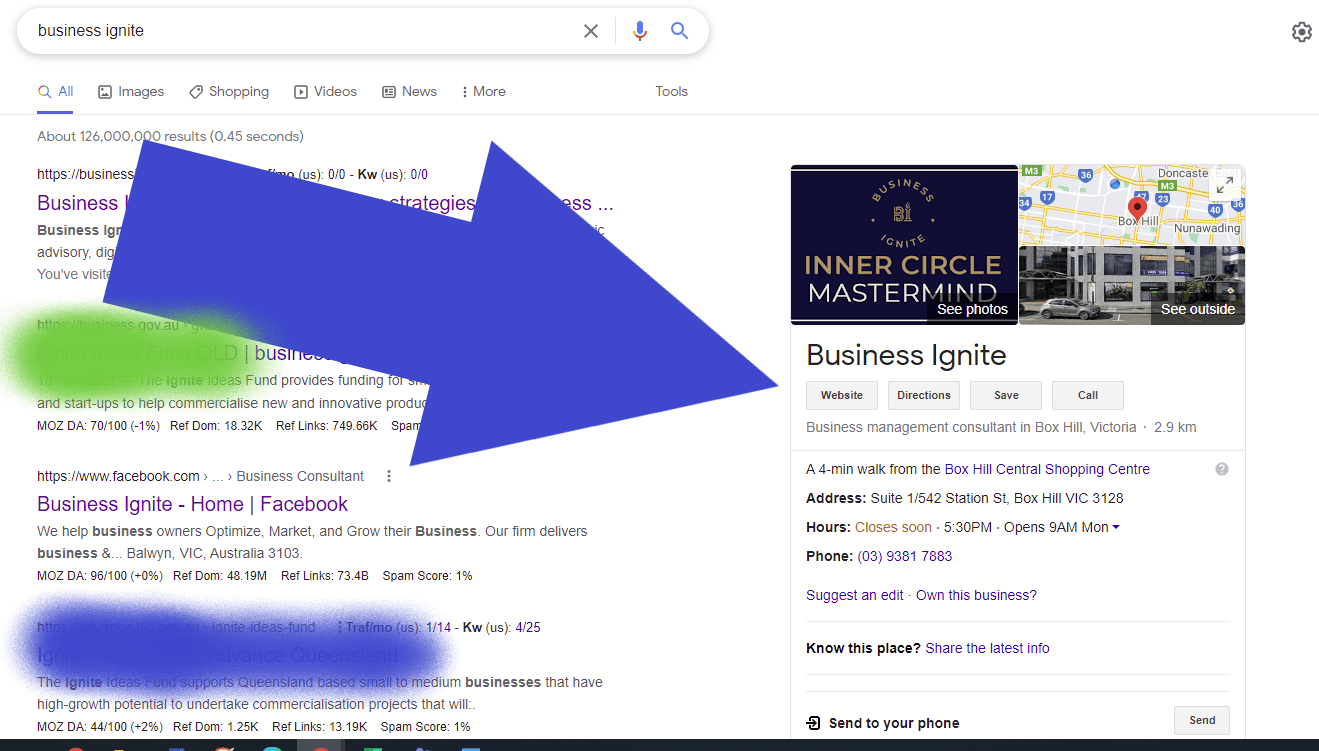 You'd be surprised that not all businesses have a business data panel on the side of the google search engine.
To have your business appear in that panel box, you must set it up manually. Google will not automatically set it up for you regardless of the years your website registers on google. It is a simple but time-consuming process: you need to provide your business details, tick the correct boxes, and perform verification tasks to appear on this panel.
Overall, Google My Business is one of the most cost-effective free marketing tools on the Google search engine. It gives you instant credibility that Google recognises your business.
Alright, here's how can do it now.
Create a new business Gmail account or use an existing one.
Open a new browser and ensure your profile is active on the top right corner.
Type "Google my business" on the search field, or find this Icon within the nine dots.
Click on the link and follow the prompts. Is that easy
If you need help setting this up, click on this link
There you have it!
The 3.5 Cost-effective ways to market your business.
And we hope this article has provided you with clarity and direction with your marketing strategy without incurring significant expenses to you.
If you need customised help to build your business, click here
If you are interested in joining a business growth program, please click here.
If you need help with your marketing, click here.