We only have 4 hours of optimum time in a day to strategise and implement the things we want to produce the maximum outcome. Therefore it is in your best interest to work on your high-priority and high-value activities that produce the optimum results for your Life and business.
And to achieve this outcome, you will need to learn and acquire the skills to get things done quickly and effectively.
This post will explain three tips for getting things done, quickly.
Identify the Most Effective Process
Don't take ten steps to achieve your [objective/ goal/task/] if you can finish it with three steps to attain the same outcome.
And how do you determine whether your action steps are the most effective ways to get the job done?
Warning: We are not encouraging taking shortcuts and cutting corners at the expense of others. The objective is to identify and remove the bad apples so that your work process is the most optimised version.
Here are five ways.
You create a checklist


You document the step-by-step tasks that lead to the completion of the Job.


Step back and apply the Big Picture perspective.


Remove the unnecessary and non-outcome-oriented tasks that can prolong the Job from achieving completion.


Ultimately, it is Experience.
There are no substitutes to experience and no shortcuts to fine-tuning an effective work process. The more you do and reflect on your steps, the more you know which steps to truncate.
Since you cannot do everything in the business, you need to delegate this responsibility to your staff member.
And suppose your staff member has zero incentive to help your company optimise your work processes. In that case, you will need to hire a business manager (employed) or a business consultant (contract) to look into your business processes.
If you do not identify and constantly fine-tune your work processes to ensure it is running at optimum capacity, your Payroll might not be the best use of your hard-earned resources.
There is another way to make things easier, it sounds tedious, but if you use a project management tool, you can translate your thoughts into action steps.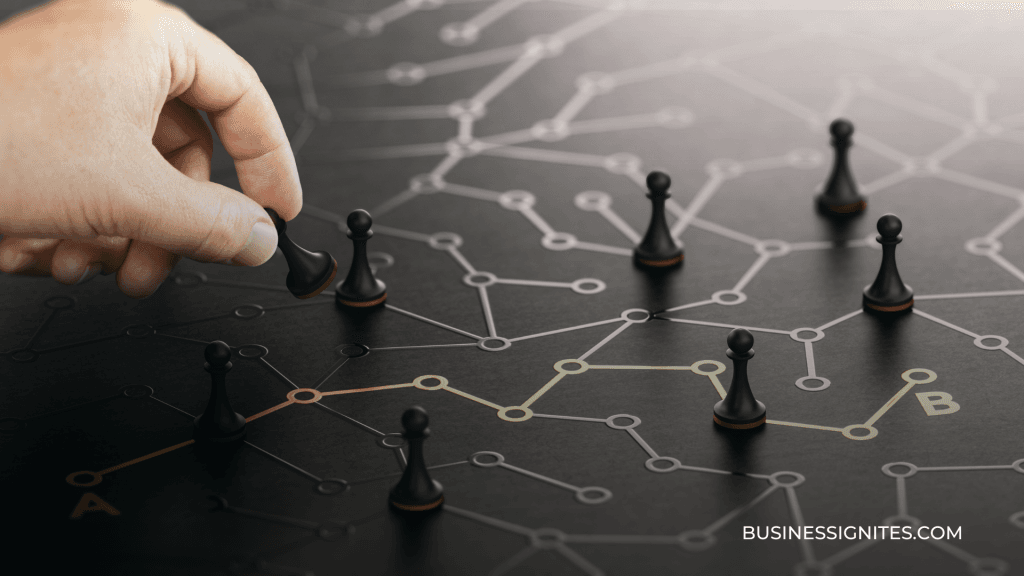 Get the Right Strategy
Getting the right strategy before you start can be challenging.
There are two trains of thought: you can either partake in the recommended process described below or try the "Just do it" approach – the Nike slogan.
If you opt for the "just do it" approach, you might risk yourself and your staff members working on activities that waste money, resources, and time when you reflect on your past 3 months' achievement. Sometimes, this could mean three months of profit going down the drain because you jump the gun motivated by impulse.
To get things done quickly, you must apply the right strategies.
You are an expert in your field, and customers come to you to solve their needs and problems because you have spent years crafting your services and offers. You have the strategy in place to deliver your services.
Similarly, there are specific strategies in business management that focus on process optimisation, revenue optimisation, product & service innovation, and productivity improvement.
Likewise, there are specific strategies on business growth that focus on sales conversion, marketing funnel, lead generation, branding, and service productisation.
So how do you get the right strategies to get things done quickly? You can try.
Attending FREE business webinars


Get free coaching calls


Read business Blog such as these ones.


Join a business mastermind group.


These 1:1 or introductory business group programs will help you advance a few steps ahead of your competitors even if you don't join the paid programs.
There is a saying if you want wealth, you study wealth. And if you want business growth, you need to learn business management and marketing, as these two subjects are two different fields of expertise. And to be successful in your business, you need to combine your technical knowledge with these two elements to see profitable growth in your company
Examine the Purpose in your Life and business
Purpose gives you the gasoline to attain your [objective/ goals/ mission].
Things are progressing slowly because you have an insufficient burning desire for that particular [objective/ goals/ mission].
The more you align your [objective/ goals/ mission] with your Purpose, the quicker you will attain your want.
You might sacrifice a handful of opportunities here and there, but you will get there.
Ask yourself.
Besides the usual money, autonomy, freedom, and potential lifestyle – what other purpose/meanings does your business provide?
Without some intrinsic PURPOSE attached to your [objective/ goals/ mission], it is a painful experience trying to complete it quickly. Your logical mind will take over and start questioning the worth of your time, investment, and efforts, "Is it worth it?"
Your business [objective/ goals/ mission] must align with your PURPOSE in Life.
As Steve Jobs put it, everyone has the desire to put a dent in the universe.
You can easily get distracted by almost anything without a genuine connection to the universe. Not understanding why you are doing what you're doing can easily lead you astray.
If you want to accelerate your success rate, write out your purpose, reasons, and Why for your [objective/ goals/ mission] and religiously recite and review them regularly: daily, weekly, or monthly depending on the level of importance.
The more you review and recite, the more it embeds into your subconscious mind. Ideally, it would be best to do this every morning before you begin your day.
Create a 30-Day Action Plan
A Plan of Action is everything. It's essential to take time out of your day, or even the beginning of each week, to ensure that you have a clear idea of where your business will go. Creating an Action Plan doesn't mean that your plan has to be perfect as long as it contains the essential steps to attain your [objective/ goals/ mission]. As Lao Tzu once said,
The journey of a thousand miles begins with one step
Remember, an action plan doesn't have to set in stone. Be fluid like water. Your Action Plan can change when your answers have changed.
We have plenty of templates on the 30-60-90 Action Plan; reach out to us for a free copy.